Are you looking for Navarre Beach Fishing Charters? Give us a call to setup a inshore fishing charter designed just for you!
Navarre Beach Fishing Charters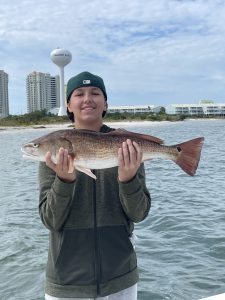 Showintail Inshore Charters of Navarre, Florida specializes in inshore shallow water fishing with artificial lures and live bait for Redfish, Speckled Trout, Flounder and many more exciting saltwater species. We fish the local waters of Santa Rosa Sound, Pensacola Bay and Choctawhatchee Bay. When you fish with Showintail Inshore Charters of Navarre Florida we will spend most of day in shallow water flats ranging from half of foot to 5 feet of water in search of Redfish and Speckled Trout. Most days we fish in calm water and not a far run from the boat ramp making our trips perfect for kids and families.
---

Live Bait Fishing Trips in Navarre Beach, Florida.
Live bait is a great way to catch a variety of species of fish. Here at Showintail Inshore Charters of Navarre Florida we almost always carry live bait aboard our trips. Kids fishing trips and families who are more relaxed fishers enjoy the live bait fishing over artificial lures. Live Shrimp is the primary bait we use till summer arrives. During the hotter months we fish live fish baits like finger mullet and pinfish. Live bait fishing in the months of May and June are a great way to catch trophy Florida Gator Trout. Large Finger Mullet or Croakers and the preferred baits for catching the large Speckled Trout. Catch and Release only for the Gator Trout but we also catch plenty of slot size Speckled Trout that are perfect for the dinner table.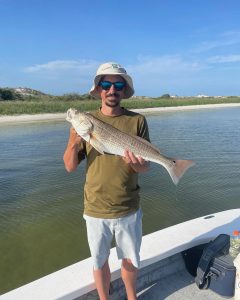 live bait fishing schooled up redfish can be some of the most exciting fishing there is! live shrimp on popping corks or free lined on a small hook are great ways to fish the hard-hitting aggressive Redfish. Luckly for us we get to catch Redfish all year long. All 12 months there are Redfish to be found with the months April-May and October-November being the best months for targeting redfish. Live Bait fishing redfish during the best months usually result in multiple hook ups and some very large Bull Reds as well. 
If you're looking for a exciting way to spend the day live bait fishing the shallow waters of Northwest Florida, give us a call and book your Navarre Beach Fishing Charter.
---
Artificial Lure Fishing in Navarre Beach, Florida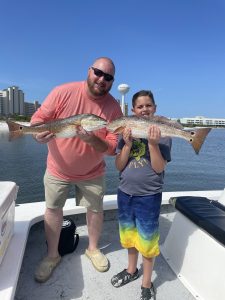 Artificial Lures are a fun way to catch fish in Navarre Beach, Florida. Artificial Lure fishing trips are great for small groups of 1 or 2 people wanting to try to the more sportsman side of fishing for these amazing fish. Covering ground is the key to being productive with artificial lures. Showintail Inshore Charters uses Minn Kota Trolling motors to slowly navigate the shallow waters while targeting Redfish, Speckled Trout, Jack Crevalle's and other really cool saltwater fish. 
Artificial Lure fishing can be very productive and exciting. Early morning top water lures bring huge explosive bites from Redfish and Speckled Trout. Once the sun gets up switching to Gold Spoons and a variety of soft plastic bait. On sunny days when the wind is calm, sight fishing for Redfish is very fun skill testing way to target these powerful animals. During the winter months artificial lures are a great way to cover areas and find redfish moving up into the shallows to warm up and feed. Gold Spoons and slow-moving paddle tails are a favorite at Showintail Inshore Fishing Charters of Navarre, Florida. 
---
Family Fishing Charters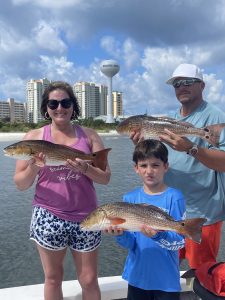 Showintail Inshore Charters offers Family Fishing Charters for all skill levels. Novice to Pro we have a trip setup just for your liking. Fishing, Sight Seeing, Swimming on a hot afternoon or cruising around seeing the sights and beating the heat. Family fishing charters are perfect for families with older kids, or a group of buddies wanting to catch some fish and spend the day on the beautiful gulf coast fishing Navarre Beach, Pensacola Beach and Destin Florida.
We offer shorter fishing trips for families not wanting to spend a whole day on in hot sun. 2 Hour and 3 Hour trips are perfect for groups not wanting to spend as much time in the sun. Shorter afternoon trips during the summer are perfect get aways for an afternoon on the water. Book your Navarre Beach family fishing charter today.
---
Navarre Beach Kids Fishing Trip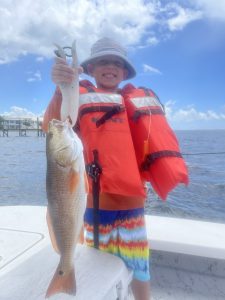 Our most requested trip is the 2-hour kids fishing trip. 2 hours on the water for the young kiddos and family. Fishing, Dolphin watching, swimming and checking crab traps during season.  Our goal at Showintail Inshore Charters is to keep the kids comfortable, safe and having fun. There is always something fun to see and do out on the water for kids and families. We offer all life jackets for kids of all sizes and adults. We recommend if you have a life jacket your kid already swims in and is comfortable in to please bring along with you for the trip.
Kids Trips are mostly catch and release trips but if we do catch some good eating fish you are welcome to keep them and we clean, ice and bag the fish for you. If you are looking to book a Navarre Beach Kids Fishing Charter or have any questions, give us a call.
---
Navarre Beach Shark Fishing with Tom and Austin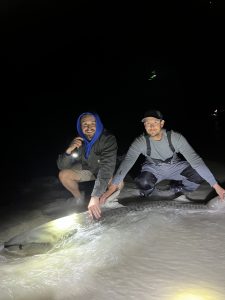 Tom and Austin with Showintail Shark Fishing will take you on a once-in-a-lifetime experience!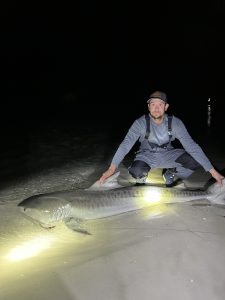 Do you want to make memories that will last a lifetime? Have stores to tell at every family gathering? Well, they are here to help make that happen. Showintail offers a stress-free shark fishing experience in Navarre Beach, Florida.
All fishing equipment needed for trophy sharks on Navarre Beach is provided. Additionally, we supply one chair per person on each charter and a pop-up canopy with walls to provide a place to get out of the elements. For all night trips, additional lighting is provided.
Lastly, an iced down 65qt cooler and water provided are provided. Feel free to put any snacks or beverages into it.
All you need to bring is a fishing license (with a shore-based shark fishing permit), food, and good vibes. Now, all that's left for you to do is decide how long you want to spend on the beach. There are spots available for 4, 6, 8, and 10 hours, and the "ALL NIGHTER" sunset to sunrise 12-hour Navarre Beach Shark Fishing trips.
These trips strictly catch and release, so expect to return anything you catch back to the water.
Want to bring the rest of the family along for the ride? Kids are welcome, so you're free to make it a family adventure.
Book your trip now and hit the water with Showintail Navarre Beach Shark Fishing.
---
Navarre Beach Family Snorkeling and Swimming Trips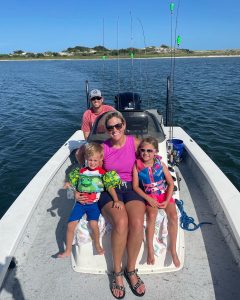 Are you and your family wanting to spend the day swimming and viewing the underwater world of the Florida Panhandle? Join us for a day snorkeling and swimming in Santa Rosa Sound. The water in Santa Rosa Sound is calm and clear most of the year during the warmer months. The clear water in Navarre, Florida is perfect for viewing the underwater world and taking great pictures if you have an underwater camera or trust your phone. 🙂
We supply mask and snorkel for each person to use and we obey all Florida laws and markings needed for snorkeling in Navarre Beach, Florida. We have a cooler located on the boat with ice for your drinks and snacks.
We recommend bringing sunblock, a towel and a small shell bag if you want to collect any cool shells while swimming and snorkeling.
To Book a Snorkeling and Swimming Charter in Navarre Beach, Florida give us a call.
Fishing Charters Near Met
Tiger Point

Woodlawn Beach

Wynnehaven Beach

Miramar Beach

Sandestin

Portofino